GoGaRuCo 2013: Community > Code
This past weekend was my first GoGaRuCo. Here's a perspective from a newbie, along with lots of photos.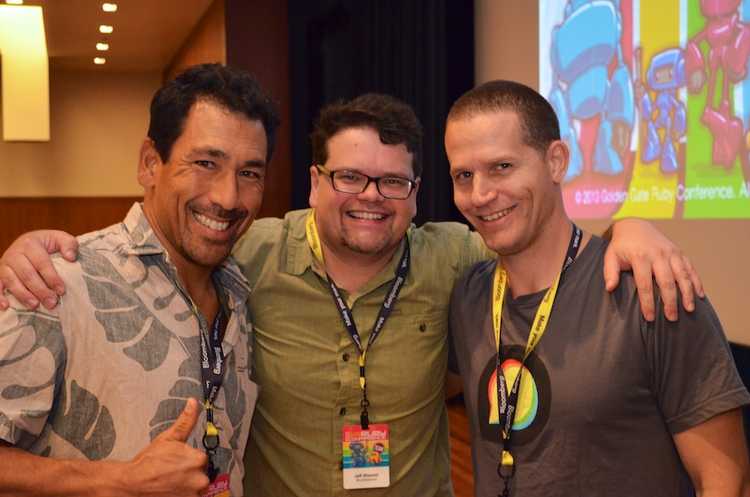 The number one thing I discovered is that GoGaRuCo, like Ruby, is not just about code. It's about the awesome people and the community.
If you just want to see the talks at GoGaRuCo, don't attend. All of the talks will be available on web shortly. So why did the conference sell out, with about 200 wait-listed people begging to attend?
GoGaRuCo attendees are madly passionate about programming, especially in Ruby. Most attendees work at start-ups, at web consulting firms, or as freelancers. The common thread is that we all love to program. It's not work. It's a passion. And it's artistic, cutting-edge, relevant, and fun!
Amongst the community, there's a genuine feeling that we're all in this together, and the more we can help each other, the better off we and the world will be. This is truly the open source spirit of contributing whatever code you can give back to the community. Consequently, for me, attending the conference was about meeting others who contribute to open-source and learning more about how I can contribute. As a bonus, I got a chance to personally meet the people whom I follow on Twitter, read their blogs, and use their open source.
My Top 14 for 2013 GoGaRuCo
Won't need to buy any new T-shirts for a long time.
Got a poster tube that doubles as a form for caissons.
No stress over picking which talks to attend, with one track.
Can, but won't, write my own replacement for ActiveRecord and IRB.
Now understand why privacy from the NSA really does matter to me.
Can write Ruby to fly a surveillance drone.
Got tips on the performance tuning one of the biggest open source rails applications, Discourse.
Everything I wanted to know about Ruby, and my co-worker's compensation, but was afraid to ask.
Plenty of break time between talks made for lots of conversation.
Personally met many of the folks I follow on Twitter!
Most folks I met want to visit me in Maui at my B&B Sugar Ranch Maui!
Met the most talented and interesting group of programmers anywhere, who all love Ruby and programming just as much as I do.
Tips
Don't miss the pre-parties, breakfasts, or after-parties.
Don't plan to work during the conference, and leave your laptop at home. An good mobile phone or tablet is very useful.
Sign up early if hanging out with other passionate programmers is your idea of fun!
Ruby on Maui, 2014?
If you interested in attending a small Ruby conference in Maui next year, maybe in May, please get in touch with me.
Photographs
If you'd like full resolution, non-watermarked copies of any of the images, please get in touch with me. I personally cropped and adjusted the exposure on all images. These were taken with a Nikon D5100, SB-400 AF Flash, and a very basic Nikon 18-55mm lens.
I hope that folks tag themselves in the Facebook albums! And please share them.
Facebook
High resolution (2560 pixel) photos of best half that I took (about 200 total):
Flickr
I uploaded the full set of 2560 pixel images here. This has the half not shown on Facebook.
First 200: Pre-party, conference day 1, some of first after-party.
Next 200: Conference day 2.
Last 134: Conference day 2 and second post-party.